The 4th Annual ETF Conference
Canada's Premier Educational Forum for Advisors on Exchange Traded Funds
A Unique, One-Day Educational Conference for IIROC and MFDA Advisors Looking to Utilize ETFs in Their Client Portfolios
Location:
Burlington Convention Centre 
Date:
Wednesday, November 29, 2017 
Conference Overview
The fourth edition of this Mindpath Conference will deliver comprehensive, cutting-edge information on Exchange Traded funds for both IIROC and MFDA Advisors looking to expand their books. The program agenda will include such topics as Evolving Fee Schedules for Advisors Using ETFs; ETF Strategists; Mutual Funds and ETFs – Can they peacefully co-exist ?; Beyond Mainstream ETFs; The Value of Advisors in An Index Investing World; Compliance in today's CRM2 Environment and much more.
The day will appeal to advisors already using ETFs as well as those advisors looking to transition their books to ETFs or integrate ETFs into their existing product line-ups.
In addition to providing value-added ETF information from the main-stage, ETF Product Providers will be on hand to answer product related questions at their exhibit booths.
Delegate Testimonials
"One of the best conferences from a learning point of view I have attended. You could see the focus here was on education and presenting different points of view." Chris Edwards, Assante
Capital Management
"Highly educational. I would recommend this conference to my peers." Lisa Martens, Desjardins Financial Security
"Excellent conference with great speakers. Excellent planning … the whole day was just great. Thank you very much. I learned a lot." Lisa Chew, BMO Bank of Montreal
"I got a lot out of the conference. The content, speakers, exhibitors, venue, lunch and the colleagues I met were all top notch. I know how much effort goes into setting
these events up and I'm just getting into the ETF space now so I learned a great deal for a one day conference." Edward Yun, Vice President, Investment Advisor,
Financial Planner RBC Wealth Management | RBC Dominion Securities Inc.
To become a speaker at one of Mindpath's conferences or to utilize one of our events as a new business development vehicle through sponsorship, please contact Dan Jerred, CEO 416-929-6463 ext. 222 or toll free 1-877-929-6463. To send Dan an email, click here.
Welcome to Mindpath!
A Leading Educational Conference Company for the Financial Services Industry
Mindpath is an educational conference company for the Financial Services sector and run by financial industry professionals. The principals of Mindpath bring over fifty years experience in financial services to the company at the advisory level, in institutional investments and in financial industry professional development and education. Our goal is to facilitate the learning process in thought-provoking ways by utilizing 'outside-the-box' thinking and 'non-traditional' information delivery methods.
Mindpath conferences deliver timely, relevant and practical information to senior managers in both the financial services industry (including financial advisors, planners & investment advisors) and the institutional investment community (including plan sponsors, pension fund managers, insurance industry investment managers and pension fund consultants).
Through its conferences and forums, Mindpath strives to educate at multiple levels of learning and understanding. Mindpath's overriding objective is to assist its attendees to carry out their job-functions more effectively by delivering the latest industry information and developments in stimulating, informative and unique ways.
Learn more about what we do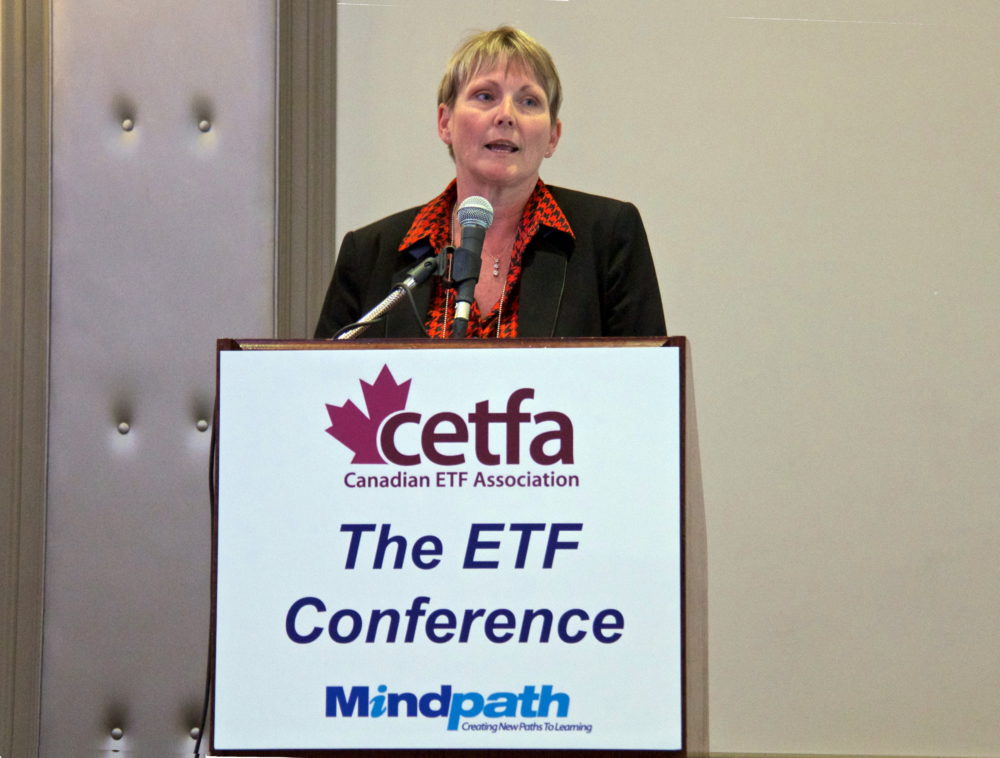 Pat Dunwoody, Executive Director, Canadian ETF Association
speaks at the 2nd Annual ETF Conference on May 6, 2015
at the Mississauga Convention Centre